Posts for: November, 2017
By Olmito Family Dentistry
November 29, 2017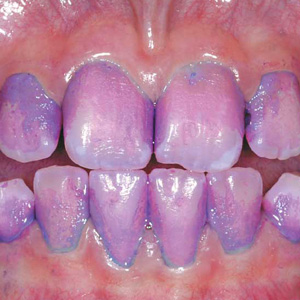 Brushing and flossing every day are important for preventing dental disease. The object is to remove as much bacterial plaque, the thin biofilm most responsible for disease, from your teeth and gums as possible.
But how do you know your hygiene efforts are that effective? You can of course do the "tongue test" â?? feel your teeth with your tongue after brushing and flossing and see if they feel smooth and "squeaky" clean. We can also give you a "report card" at your regular cleaning appointment. There is, however, a more precise way you can find out at home by using a plaque disclosing agent.
A plaque disclosing agent is a formulation that when applied to the teeth will temporarily dye any bacterial plaque present a distinct color. While dental hygienists occasionally apply them, they're also available over the counter for use at home. They're usually found in a solution, tablet or swab form in various flavors.
To use the product you first brush and floss, then swish the disclosing liquid around in your mouth for about 30 seconds before spitting it out (or chew the tablet or apply the swab as directed). The agent will react with any remaining plaque and dye it a bright color. There are even two-tone agents available that can differentiate between old and new plaque and dye them different colors.
Examining your teeth in a mirror will give you a good idea where you need to concentrate your attention when brushing and flossing. If, for example, you see dyed plaque more along the gum line and less in other places, then that's where you should focus your hygiene efforts.
While the dye will eventually wear off on its own, you should take the opportunity to brush and floss again to remove any remaining dyed plaque. Not only does this provide a more thorough cleaning at that moment, you'll also get a better sense of how "thoroughness" feels for future brushing and flossing.
It's always good to know how well you're doing with your dental hygiene efforts. A plaque disclosing agent can give you just the right feedback to help you improve.
If you would like more information on proper oral hygiene habits, please contact us or schedule an appointment for a consultation. You can also learn more about this topic by reading the Dear Doctor magazine article "Plaque Disclosing Agents."
By Olmito Family Dentistry
November 14, 2017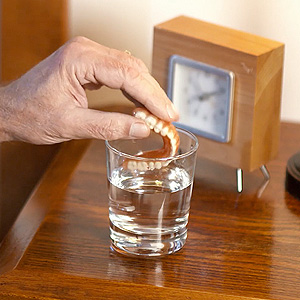 Dentures can be an effective and affordable solution for people who've lost all their teeth. With them a person can once again eat nutritiously, speak clearly and smile confidently — and with regular care they can last for years.
As part of that ongoing care, be sure you consider one important thing with your dentures: you may want to take them out at night while you sleep. If you do you'll lessen your chances of developing these 4 health problems.
Accelerated bone loss. Traditional dentures are fitted to rest securely on the gums. This, however, creates pressure on the gums and the bony ridges beneath them that can contribute to bone loss. Wearing dentures around the clock usually accelerates this process, which could eventually lead to among other problems looser denture fit and discomfort.
Bacterial and fungal growth. Microorganisms that cause oral diseases find conducive breeding spots on the underside of dentures while they're worn in the mouth. Studies have found that people who continuously wear their dentures are more likely to have bacterial plaque and oral yeast than those that don't.
Potentially dangerous infections. Bacterial and fungal growth increases your risk of oral infections that could affect more than your mouth. A recent study of elderly nursing home residents found those who wore their dentures during sleep were over twice as likely to develop serious cases of pneumonia requiring hospitalization. It's believed bacteria harbored on the dentures can pass from the mouth to the lungs as a person breathes over them while they sleep.
Blocked salivary flow. During the night our salivary flow naturally ebbs; wearing dentures while we sleep could cause denture stomatitis, in which the tissues covered by a denture (particularly along the roof of the mouth) become inflamed and infected with yeast. It's often accompanied by angular cheilitis or cracking at the corners of the mouth that becomes infected by the same yeast.
Wearing your dentures while you sleep contributes to conditions ranging from irritating to life-threatening. To prevent such problems clean your dentures as well as the rest of your mouth regularly — and talk to your dentist whether you should leave them out when you go to bed.
If you would like more information on denture care, please contact us or schedule an appointment for a consultation. You can also learn more about this topic by reading the Dear Doctor magazine article "Sleeping in Dentures."